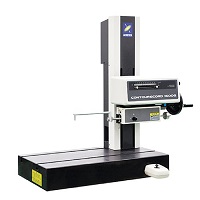 Carl Zeiss Contour Tracer
* Profile Synthesis Function ( merging of several different profiles)
The limitation on the analysis range due to the stylus angle are addressed with the synthesis function.
* Work piece Trace Function
This helps in pre determination of the work piece trace .Effective for measurement of minute profiles.
* Full CNC Programmable
Ensures improving the productivity as the contour profile can be programmed , right from measurement to analysis & report generation.
* CAD comparable
Measured profile can be compared one to one with the actual CAD data (IGES, DXF) for any kind of profile. Especially helpful for free form profiles