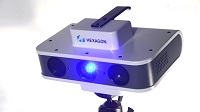 Hexagon Aicon Blue Light Scanner
The AICON PrimeScan has a compact design: the base area equals a DIN A4 sheet, and the scanner weighs about 4 kg only. The working distance is short. Thus, the AICON PrimeScan is the ideal device for easy and uncomplicated scanning in special application areas, as for example on a desktop or in a narrow environment like industrial surroundings.
The scanner line AICON PrimeScan is equipped with blue-light technology for industrial applications and offers fixed configurations with different resolutions and measuring fields – the perfect solution for every measuring task.
High-resolutions sensor technology for maximum level of detail
Eight fixed configurations for most diverse measuring tasks
Scanning of glossy and dark surfaces without pre-treatment
Applicable with photogrammetry