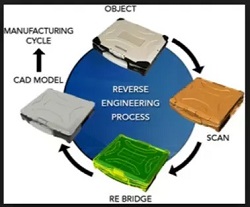 With reverse engineering services, we can digitize almost anything into workable 3D CAD data. By digitizing your products and parts, we can modernize your manufacturing and product development processes and eliminate the need for physical inventory. Reverse engineering through 3D scanning makes it possible to easily and quickly achieve a highly accurate 3D digital model of the assembly and all existing components of your part.
Reverse engineering is useful to analyze product functionality, analyze subcomponents, estimate costs, and identify potential patent infringement. It may also be used to supply documentation that was either lost or never written, typically for parts designed before CAD software became widespread.
We use reverse engineering method of creating a 3D virtual model from an existing physical part for use in 3D computer-aided design (CAD), computer-aided manufacturing (CAM), computer-aided engineering (CAE), or other software. The process involves measuring an object and then reconstructing it as a 3D model.